---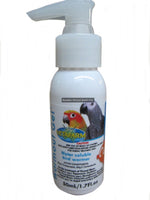 Vetafarm Wormout Gel is a water soluble bird worming solution for use with a wide range of birds. Active constituents: Praziquantrel, Oxfendazole. For the treatment of Thread Worm (Capillaria spp.), Tapeworm (Railietina spp. and Choanotoenia spp.), Roundworm (Ascaridia spp.), Caecal worm (Heterakis gallinarum), Hook Worm (Acuaria spp.) in caged and aviary birds and pigeons. Not to be used on birds intended for human consumption.

Size: 50ml

Each pump delivers 1ml.

Drinking water dose: Dilute Wormout Gel with water at the recommended dose rate and provide this as the sole source of water for 2 days.

All aviary birds - Add 2ml of Wormout Gel to 160ml of drinking water.

Pigeons - Add 2ml of Wormout Gel to 320ml of drinking water. Repeat once every 3 months.
Crop Needle Dose: Use a small syringe for accurate dosing. Carefully dilute 1ml of Wormout Gel in 9mls of water to make 10mls of stock solution. Give 0.5ml of stock solution per 100g of body weight. Give treatment once only.  Repeat once every 3 months.