---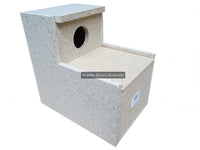 Sale
*** OLD STOCK CLEAR OUT - DIRTY, DISCOUNTED ***
Wooden bird nest boxes, L shape, suitable for small parrots and love birds.
Dimensions: approx. 25cm front to back x 25cm high (top to bottom) x 17cm wide (side to side)
Entrance hole diameter approx. 5cm
Materials: 12mm particleboard
These wood nesting boxes are great for use with lovebirds, Peach face parrots, small parrots and finches.