---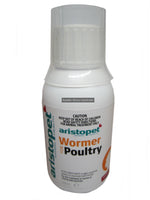 Aristopet Wormer for Poultry for the treatment of worms in food-producing birds. Active constituents: Levamisole

Size: 125ml

For the treatment of large roundworm Ascardia galli, Caecal Worm Heterakis gallinae, and Hairworm Capillaria spp. in fowls, turkeys, and other food producing birds.

Safety Directions: Harmful is swallowed. Avoid contact with eyes and skin. Wash hands after use.

Directions: The use of this product during extremely hot weather is contraindicated.

Dosage: Dilute 8ml of poultry wormer in 100mls of drinking water for every 3kg bird / liveweight. Bottle dispenses 16 drops per ml. Withholding period: Do not use less than 7 days before slaughter for human consumption.