---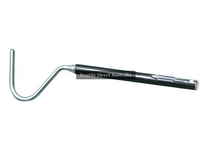 Sale
Snake catching and handling hook. Made from surgical grade steel so very lightweight. Belt clip at top for hanging on your belt or pocket.  Keep a safe distance from the snake. Telescopic extendable for use in various situations.

Dimensions: extends from 19cm to 66cm

Snake hooks are a popular snake handling tool that can be used in many circumstances for safe handling of wild or captive snakes. These hooks are professionally made for use with snakes.

These hooks are made from cast aluminium and are therefore both strong and lightweight. They are telescopic so can be used at varying lengths according to your needs and can be packed away and stored easily.

Use the tool that professionals use for safe handling.

Note: These hooks are professionally made and are strong but they do have their limitations especially when fully extended. They are not made to be lifting snakes which exceed a reasonable weight expectation so please exercise due care in their use to ensure that you do not damage the product.