---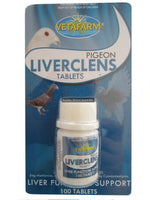 Vetafarm Pigeon Liverclens Tablets

Size: 100 tablet pack

Indications: Liver function is vital to pigeon health. Liverclens supports liver health by providing vital ingredients for liver repair and detoxification. Liverclens should be used following any disease, stress, or drug administration.

Dosage: 1 tablet per pigeon twice a week as required.

Storage: Store below 30C in a dry place out of direct sunlight.