---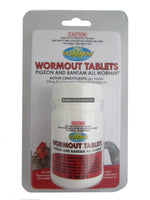 Vetafarm Wormout Tablets - Pigeon and Bantam all wormer. Active constituents per tablet: 20mg Praziquantel, 20mg Oxfendazole. For the treatment of Thread Worm (Capillaria spp.), Tapeworm (Raillietina spp., Choanotaenia spp.), Roundworm (Ascardia spp.), and Caecal Worm (Heterakis gallinarum) in pigeons and bantams only.

Size: 50 tablet pack

Directions: Not to be used on birds intended for human consumption.

Give one tablet by mouth per 2kg of body weight. Repeat in 8-12 weeks.