---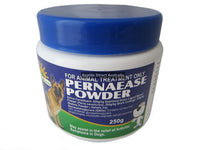 Mavlabs Pernease Powder is an Australian made pet product that may assist in the relief of Arthritic symptoms in dogs. Comes in a choice of 125g or 250g jars. Active constituent: 600g/kg Stabilised Green Lipped Mussel Powder (Perna canaliculus), 200g/kg Shark Cartilage, 200g/kg Abalone Powder (Haliotis iris). Contains not less than 14% combined glycosaminoglycans (predominantly chonodroitin sulphate) and glucosamine.
Size: 250g

Pernease Powder is a natural supplement, designed to relieve arthritic symptoms in dogs of all ages. Pernease Powder contains no preservatives, added flavouring or bulking agents - only pure and natural freeze dried marine concentrates.

Directions for use: For use by or under the supervision of a registered veterinary surgeon. Use in pregnant animals not recommended. Not recommended for use as an alternative treatment for acute joint inflammation. Avoid heating this product as heat will diminish or destroy active constituents.

Administration: Administer once daily by mixing with a small amount of food or drink. Monitor to ensure that the dog eats all of the food or drink.

Follow directions on label.