---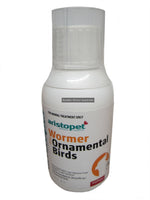 Aristopet Wormer for Ornamental Birds. Controls roundworms Ascardia spp in ornamental birds. Active constituents: Piperazine citrate.

Size: 125ml

Bird wormer is indicated in the control and treatment of roundworms Ascardia spp. in ornamental cage birds. Roundworm infestation can be associated with weight loss, poor appetite, retarded growth, diarrhoea and severe debilitation.

Directions for use: Not to be used in food producing species of birds.

For optimum results withhold drinking water for 112 hours before treatment. Calculate the dose rate to the volume of drinking water required. Medicated drinking water should be then administered for 3 days. Repeat treatment after 14 days to prevent re-infestation.

Dose rate: 1ml of bird wormer per 15ml of drinking water. If worm problem persists contact a veterinary surgeon.

Note: Do not give plain water whilst medicated water is being administered. Withholding green foods for the duration of the treatment.