---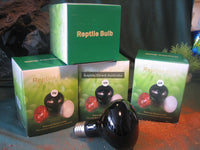 Sale
Reliable bulbs that will last for months under normal usage. Reflector bulbs providing directional lighting where you need it. Recommended for use with ceramic batten holders.
Wattage: 150W
Bulb Type: Moonlight Bulb
ES screw fitting
Photo shows four bulbs - we sell these bulbs individually
Moonlight bulbs are multi-source lamps that can be used for lighting, heating, and also as a source of UVA lighting. Moonlight bulbs are good for night time lighting and heating of enclosures and in situations where bright intense lighting is not desirable.

Our bulbs are very reliable and should last you for many months under normal usage. Despite this bulbs can blow for a number of reasons mostly pertaining to electricity supply. The following bulb care tips should help to prolong the life of your bulbs.

Bulb care tips:
Store new bulbs in a cool location away from direct sunlight until they are ready for use.
Avoid touching the bulb surface.
Ensure that light fitting is turned off before replacing bulbs.
It is best not you to use a switching thermostat in conjunction with light bulbs and limit the frequency of switching the bulbs on and off.
Protect bulbs from water spray especially when they are running hot.
Install surge protection.