---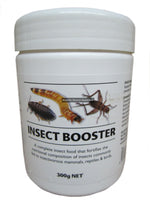 Insect Booster a complete insect food that fortifies the nutritional composition of insects commonly fed to insectivorous mammals, reptiles, and birds.
Adult insects (crickets, wood cockroaches) - supply insect booster as a dry powder in a shallow bowl.
Juvenile insects (meal worms, fly pupae) - make a 50:50 mixture of insect booster with bran and supply as the substrate in which the pupae live. Moisture should always be available and can be supplied as a piece of wet sponge, fruit or vegetable.
Ingredients: pollard, whey & soy proteins, methionine, vegetable oils, omega-3 & omega-6 fatty acids, vitamins A, B1, B2, B6, B12, D3, E, K, niacin, pantothenic acid, folic acid, biotin, calcium, phosphorous, magnesium, iron, zinc, manganese, copper, iodine, selenium, lutein, zeaxanthin, astaxanthin.
Typical analysis per kg: protein 130g; fat 50g, calcium 150g, vitamin E 1600mg, vitamin D3 65ug, lutein 120mg, astaxanthin 30mg, zeaxanthin 16mg
Note: Manufacturer has updated packaging so it varies from the product photo.