---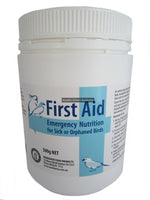 Passwells First Aid Emergency Nutrition for Sick or Orphaned Birds. An instant energy, high protein boost for all sick birds. Invaluable for orhpaned or injured wild birds when first coming into care. Ensure that sick or injured birds are kept in a quiet and warm environment and area treated for dehydration prior to being fed. Seek veterinary advice.

Size: 500g

First Aid provides sick, injured, and orphaned birds with a highly digestible source of essential amino acids, essential fatty acids, vitamins and minerals.

Ingredients: Albumen, hydorlysed casein, maltodextrin, glucose, vegetable oils, omega-3 and omega-6 fatty acids, vitamins and minerals.

Typical analysis: Protein 22%, Fat 6%, Carbohydrate 60%, Energy (ME) 14MJ/kg

Directions for use are on the pack.