---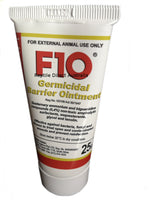 F10 Germicidal Barrier Ointment is effective against bacteria, fungi, and viruses to treat open and contaminated wounds and prevent reinfection.

Size: 25g

Quaternary ammonium and biguanidine compounds (0.4%) non-toxic ampholytic surfactants, sequesterants, glycol, and lanolin.

Directions: Remove all organic material and clean the wound using an approved irrigation solution. Once a day apply a layer of ointment over the total wound site. Repeat daily or as directed by the veterinarian taking care to repeat the cleaning procedure before each application. Re-occuring conditions should be treated in conjunction with a complete treatment plan including antibiotics, as directed by the veterinarian.