---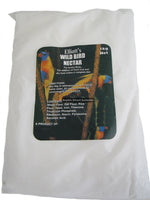 Elliott's Wild Bird Nectar for aviary birds. The addition of fresh fruit and dry food makes a complete diet.

Directions: Mix 40g (4 tablespoons) to 1 litre of warm water. All nectar should be consumed in 1 to 2 hours.

Contents: Wheat flour, oat flour, rice flour, yeast, iron, thiamine, tricalcium phosphate, riboflavin, niacin, pyridoxine, ascorbic acid.