---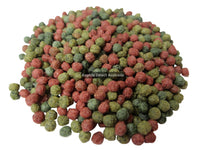 Bearded Dragon Pellets are a nutritionally balanced food, fortified with vitamins and minerals. They are a highly digestible, enticing pellet which Bearded Dragons will eagerly consume.
Feeding instructions:
Moisten food in water or fruit juice
Provide slightly more than the bearded dragon will eat in an 8 hour period
Fruit, vegetables, crickets and mealworms can be given as treats
Always provide fresh water
Manufactured in Australia from the highest quality grains and meals.
Analysis: Protein 29%, Fat 6%, Fibre 6%, Moisture 8%
Ingredients: Wheat flour, soya bean meal, fish meal, spirulina, kelp flour, apple pomace, ascorbic acid, nicotinic acid, menadione, folic acid, pridoxine B6, thiamin B1, riboflavin B2, vitamin B12, choline chloride, iodine, anitoxidant, vitamin E, vitamin B2 total, vitamin D3, vitamin K3, added vitaminD3, vitamin A, vitamin B6, vitamin C-EC, dried yeast, wheat germ, iron, manganous oxide, zinc, mycocurb, biotin, calcium B, panthithenate, cobalt, manganese, selenium, innositol, tixosil