---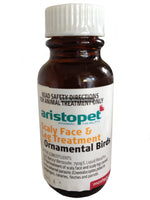 Aristopet Scaly Face & Leg Treatment for Caged Birds is for the treatment of scaly face and scaly leg caused by the external parasite Cnemidocoptes pilae in budgies, canaries, finches, and parrots. Active constituents: Benzyl benzoate, Liquid paraffin

Size: 25ml

Directions for use: Apply to affected area once a day for 3 to 4 days. Apply with a cotton bud or small brush. Prevent the bird from ingesting material by holding the head firmly during application. Repeat treatment 1 to 2 weeks later to avoid reinfestation.

Precautions: Use sparingly when applying to beak area. Do not apply to more than 20% of body surface in any one application. Wash hands after use.

Follow directions on label.