---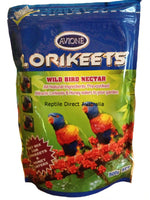 Avione Lorikeets Wet Mix - Wild Bird Nectar - All natural ingredients, pre-cooked, attracts lorikeets & honey eaters to your garden.

Using Avione is the first step in making your backyard a bird-friendly feeding area. A few trips to other things you can do to brighten up your backyard with birds all year round.

Nectar Mix - You can feed Avione to lorikeets and honey eaters a number of ways: simply put it in a dish or mix with a little warm water (50g to 1 litre) and remember to clean your dish every day.

Water - all birds love clean, fresh water. If you provide this for them you'll enjoy a regular bathing show.

For maximum freshness, store in a cool dry place away from direct sunlight. This bag is sold by weight. Some settling of contents may occur during transportation.

Guaranteed Analysis: Min. Crude Protein 13%, Max. Crude Fibre 5%, Min. Crude Fat 6%, Max. Salt 0.2%

Ingredients: ground white rice flour, ground yellow rice meal, ground mixed biscuit crumb, dextrose monohydrate, vanilla flavour, vitamins and minerals.